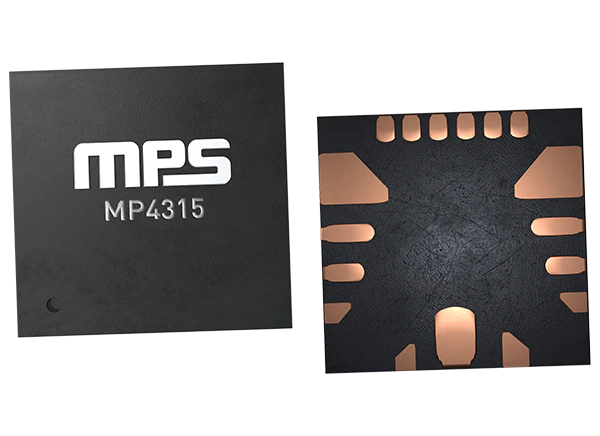 Monolithic Power Systems (MPS) MP4315 Synchronous Step-Down Converters offer a configurable frequency and an integrated internal high-side MOSFET (HS-FET) and low-side MOSFET (LS-FET). The MP4315 delivers up to 5A of highly efficient output with current mode control for fast loop response. The device accommodates a wide 3.3V to 45V input voltage range ideal for various step-down applications in automotive input environments.
The MPS MP4315 Synchronous Step-Down Converter provides a low 1.7μA shutdown mode quiescent current designed for battery-powered applications. High power conversion efficiency across a wide load range is achieved by scaling down the switching frequency under light-load conditions to reduce the switching and gate driver losses.
Additionally, the MP4315 converter's open-drain power good signal indicates whether the output is within 93% to 106% of its nominal voltage. Frequency foldback helps prevent inductor current runaway during start-up. Meanwhile, thermal shutdown delivers reliable, fault-tolerant operation. High-duty cycle and low-dropout mode are supplied for the automotive cold crank conditions.
The MP4315 is housed in a QFN-20 (4mm x 4mm) wettable flank package.
Features
Wide 3.3V to 45V operating voltage range
5A Continuous output current
1.7μA Low shutdown supply current
18μA Sleep mode quiescent current
Internal 48mΩ high-side MOSFET and 20mΩ low-side MOSFET
350kHz to 1000kHz Configurable switching frequency for car battery applications
Can be synchronized to an external clock
Out-of-phase synchronized clock output
Frequency Spread Spectrum (FSS) for low EMI
Symmetric VIN for low EMI
Power good output
External soft start
100ns Minimum on time
Selectable Advanced Asynchronous Mode (AAM) or Forced Continuous Conduction Mode (FCCM)
Low-dropout mode
Hiccup over-current protection
Available in a QFN-20 (4mm x 4mm) package
Available in a wettable flank package
Typical Application
more information: https://www.monolithicpower.com/en/mp4315.html