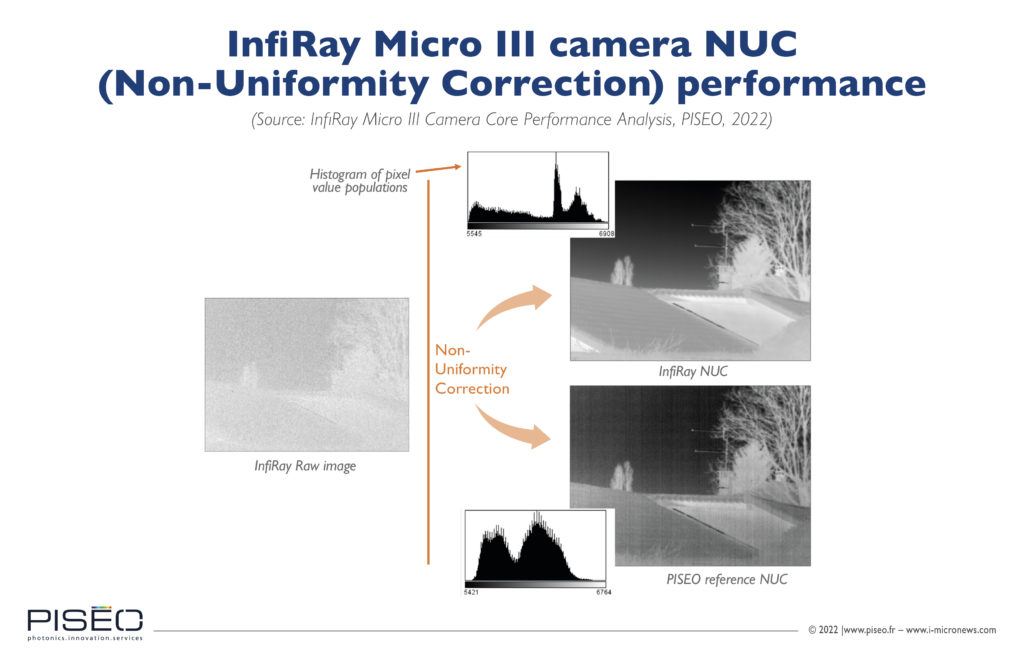 The wider adoption of thermal cameras is now mainly a matter of marketing effort to convince the integrators and users of the benefits of thermal imaging, especially in the consumer and automotive markets (e.g., ADAS). Teledyne FLIR, Seek Thermal and Raytheon  are some of the top 10 thermal camera manufacturers.
A lot of work has gone into commercializing and selling thermal cameras from Chinese manufacturers.
In the past, there were mainly European and American players in the market, though Chinese companies started more than ten years ago to work on thermal camera technologies.
Now, the question is whether the Chinese manufacturers are going to gain an increasing market share, or will the original regions of origin keep their leading positions?
The Micro III camera module was found to contain a well-performing bolometric sensor, producing good quality images with a low number of bad pixels.
However, the image quality is not well enhanced by the image processing firmware, which includes basic tone mapping functions with errors in some of them.
From a user's perspective, the software platform is not supportive enough to get the best out of the camera's potential. strategies.
Compared to the Boson camera module from FLIR, which is a reference product in this field, the Micro III module is based on a higher quality sensor.
However, algorithms for signal correction and image processing – which make the Boson camera's approach attractive – largely underperform in the InfiRay camera.
The system engineer may be surprised at how difficult it is to reach the sensor's potential in this case.
The final image quality is as good as the one obtained with the FLIR Boson camera but is the result of a different approach: a higher performance sensor in this case and higher performance image processing in the other.
The impression one gets from the analysis of the Micro III is that this module is better for internal InfiRay applications than for external ones.
The multiple user interfaces and the approximation of the software tools suggest case-to-case improvements inspired by specific application contexts.
It should also be noted that the limited documentation and support available make the InfiRay Micro III camera difficult to integrate into a camera system.